Vidict Peer at ICC Cricket World Cup 2019
ICC Men's Cricket World Cup 2019
Held every four years ICC Cricket World Cup is one of the world's most viewed sporting events and at the same time most challenging for delivering live video. Networks of servers known as Content Delivery Networks do the bulk of the video delivery but their streaming capacity is designed based on forecasts, meaning they are either at the limit of their capacity when popular sporting events bring an unprecedented number of viewers or sit idle. That means a sudden peak in viewership numbers during attractive games puts the servers under strain causing buffering, a frozen screen, and juddering and it is not exclusive to streaming cricket.
The audience of the 2018 FIFA World Cup proved to be too much for YouTube, which went down during semifinals and BBC iPlayer app crashing in the last five minutes of quarter-final game.
| | | |
| --- | --- | --- |
| Event | App | Date |
| Super Bowl | | February 4, 2019 |
| FIFA World Cup 2018, England - Croatia | | July 11, 2018 |
| FIFA World Cup 2018, Sweden - England | | July 7, 2018 |
| Super Bowl | | February 6, 2017 |
2019 edition of the ICC Cricket World Cup took place between 30 May and 14 July and produced some exceptional pitches with India - Pakistan being the most-watched event ever on domains serviced by us. At the same time, India and England brought on a record number of concurrent viewers. The maximum savings achieved in terms of server bandwidth when using a system like Vidict Peer are equal to the traffic running through the p2p network. At one instance this number reached 82% of the entire traffic. Due to the remarkable results in generating savings for server hosting and bandwidth, without compromising picture quality Vidict Peer license was extended by all domains and is still actively used to this day.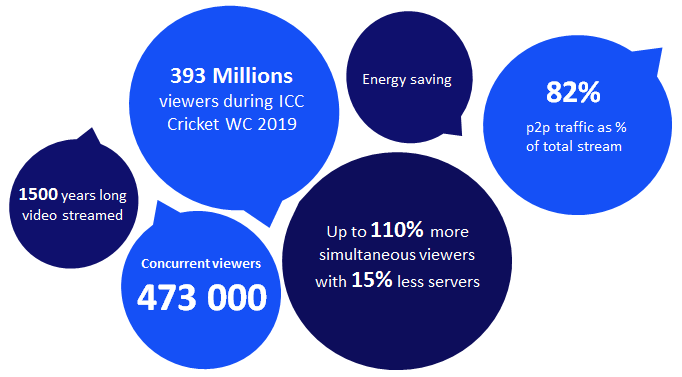 Vidict Peer was actively used for the entire duration of the tournament, enabling servers to handle a record of 473 thousand simultaneous viewers on June 30. Moreover, like never before there were nearly four hundred million live views in just 45 days.
Expecting a record traffic Vidict Media Server made Vidict Peer available for the audience of 6 domains, two months before the start of the 2019 Cricket World Cup. Few of these domains are owned by Pakistani entrepreneur.
According to him "This world cup was much different from the one in 2015. Despite having more viewers the revenues from the ads fell drastically because of Google advertisement policy. As a result, the expenses for delivering video to more viewers couldn't be compensated."
Without adding more servers there was a real danger of delays in the stream, buffering problems, or even website crashing which could seriously damage his reputation in the cricket streaming community. On the other hand, it was more than certain that the returns of such investment would be non-existent, so he opted for Vidict Peer.
Deployed as a SaaS on a one-off license contract basis, Vidict Peer was tasked with offloading the traffic going through servers by creating a peer-to-peer network of end-user devices capable of streaming to each other. The integration process on the server-side, which is where the whole logic of making P2P is located, was completed in a single day by our release manager. On the client-side, the installation was done by adding a single line of code at the client's websites. This line is loading javascript library on the viewer's web browsers, and connecting them to our central servers.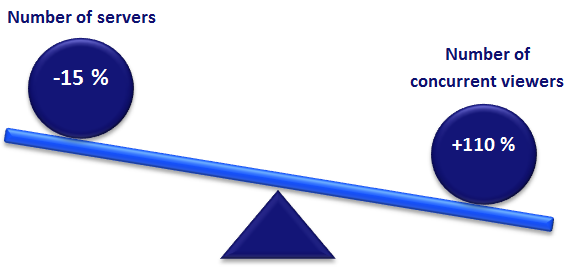 More importantly, in some cases as a result of p2p, fewer servers were deployed despite a 110% increase in the peak of viewership numbers, compared to a period without Vidict Peer a few months before.
"At first I was skeptical and only agreed because in my case there was no viable option. Today I see no alternative for Vidict Peer", says our client.